Who Represents the LCP Membership
Lake Country Power is an electric cooperative and is governed by a policy-making board of nine directors. Each director serves a term of three years. These directors are elected by members voting through a balloted election within their respective district. Results of the elections are announced at the annual meeting.
The co-op's board of directors is responsible for establishing Lake Country Power's basic policies, goals and strategies. The board hires a manager to carry out these policies, strategies and the day-to-day operations of the cooperative.
For those members interested in serving on the Lake Country Power Board of Directors, the step-by-step election process and more information about Lake Country Power are included on this website.
Board Candidate Information Brochure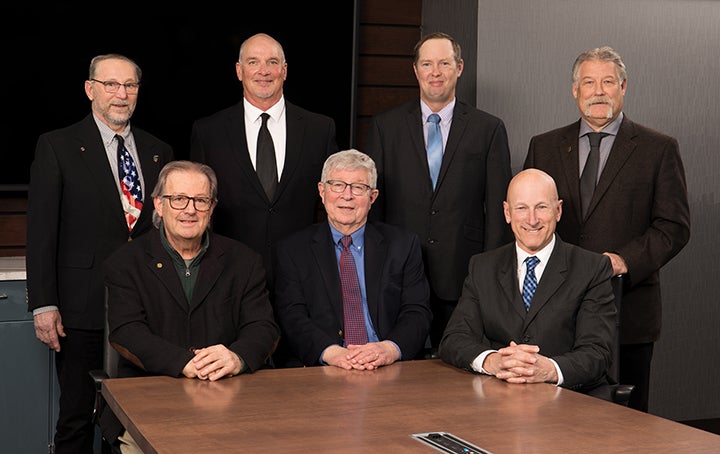 ---
Monthly Board Meetings
Lake Country Power's nine-member board of directors and staff meet once a month at 9:30 a.m. The board meetings are open for members to attend and are normally scheduled at Lake Country Power's service centers on a rotating basis. However, all 2022 meetings will be held in Cohasset to accommodate social distancing requirements brought on the by COVID-19 pandemic. Members are given an opportunity to speak at the beginning of the meeting and at the end of the meeting. If you are interested in attending a board meeting, call 1-800-421-9959 for more information.
Meet the Lake Country Power Board of Directors:
View map of Lake Country Power's nine district locations within northern Minnesota.
Jason Long

Treasurer

8849 Beatty Road

Cook, MN 55723

218-240-9611

 

Michael D. Forsman

Secretary

1423 East Harvey Street

Ely, MN 55731

218-365-5789

Steve Raukar

301 1st Avenue South

Hibbing, MN 55746

218-966-0298


 

 

 

Vacant (to be filled in spring 2023)

 

Robert Bruckbauer

7267 Lakeside Park Dr NE

Remer, MN 56672

218-290-8729

 

Dan Kingsley

Vice President

349 Summit Avenue NE

Hill City, MN 55748

218-697-2628

Craig D. Olson

President 

8072 Swan Lake Road  

Culver, MN 55779

218-393-2276

 

Vacant (to be filled in spring 2023)

 

Larry Anderson

97 East Palkie Road

Esko, MN 55733

218-428-2722
2022 Board Meeting Dates
| | |
| --- | --- |
| January 25, 2022 – Tuesday | 9:30 a.m. Cohasset |
| February 22, 2022 – Tuesday | 9:30 a.m. Cohasset |
| March 29, 2022 – Tuesday | 9:30 a.m. Cohasset |
| April 26, 2022 – Wednesday | 9:30 a.m. Cohasset |
| May 24, 2022 – Tuesday | 9:30 a.m. Cohasset |
| June 28, 2022 – Tuesday | 9:30 a.m. Cohasset |
| July 26, 2022 – Tuesday | 9:30 a.m. Cohasset |
| August 30, 2022 – Tuesday | 9:30 a.m. Cohasset |
| September 27, 2022 – Tuesday | 9:30 a.m. Cohasset |
| October 25, 2022 – Tuesday | 9:30 a.m. Cohasset |
| November 29, 2022 – Tuesday | 9:30 a.m. Cohasset |
| December 22, 2022 – Monday | 9:30 a.m. Cohasset |